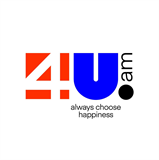 People and Culture Specialist
Industry:
Human Resources
Employment type:
Full time
Work schedule:
Five-day workweek
Work experience:
Junior, Mid level
Job posting has expired
4u.am is looking for an in-house People and Culture Specialist to join its team. The role of the PC Specialist is to find the right fit for the company culture and maintain the talents.
PC specialist is responsible for:
Executing the full process of recruitment and onboarding,
Processing and managing employment-related documents,
Providing support to employees on various PC-related topics and organizing feedback talks,
Developing organizational strategies for enhancing Corporate Culture,
Organizing training and development initiatives,
Building and maintaining positive employee relations,
Organizing team-building activities.
PC Specialist should have:
At least 1 year of working experience in the field of HRM,
Solid knowledge of the Labor Code of RA,
Excellent command of Armenian, good knowledge of English and Russian,
Ability to maintain confidential information,
Aptitude in problem-solving and offering creative solutions,
Excellent interpersonal and communication skills,
Proficiency in software.
Positivity is a must!
Sounds interesting? Send your CV right now to our e-mail.