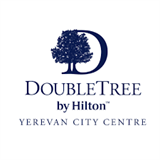 Industry:
Tourism, Hospitality, Human Resources
Employment type:
Full Time
Work schedule:
Five-day workweek, 8 hour shift
Open to international applicants
Նկարագրություն
DoubleTree by Hilton Yerevan City Centre is looking for an experienced, professional and dynamic team member for the position of an HR Manager.
HR Manager is responsible for the full circle of HR functions including recruitment, administration, training and other related activities. The HR manger coordinates hiring, compensation, benefits, timesheets, training and development, as well as employee relations. The manager also advises supervisors and staff regarding employment regulations, policies and practices; ensures that HR functions are in compliance with the labor legislation.
Պարտականություններ
Develop and monitor overall HR strategies, systems, procedures across the organization,
Bridge management and employee relations by addressing demands, grievances, giving feedbacks,
Proving consultation to HR related questions and inquiries to staff and management,
Support current and future business needs through the development, engagement, motivation and preservation of human capital,
Manage and monitor all HR administration processes, ensure that all procedures and documents (employment contracts, personnel files, employer legal acts etc.) are designed in compliance with RA labor legislation,
Based on the departmental schedules prepare monthly timesheets to process with payroll,
Manage the recruitment and selection process, prepare and post announcements, conduct interviews, tests, create databases
Onboard all new team members, conduct New Hire celebration for new team members,
Facilitate all Doubletree by Hilton trainings. Ensure all trainings are completed in a timely manner in order to remain compliant with Hilton Brand Standard,
Encourage a good standard of employee conduct/behavior and grooming standards,
Assist with planning, coordinating and executing staff related activities and events, team building activities, appreciation events etc.
Պահանջներ
Higher education in the field of HRM or another related field
At least 3 years of experience in managing human resources, preferably in-service providing company,
Strong knowledge of RA labor law and employment practices,
Excellent knowledge of written and spoken Armenian, English and Russian languages
Familiar with ArmSoft
Advanced time management skills, ability to work under pressure with tight deadlines
Enthusiasm to work with the team and in the team, ability to contribute to building a positive team spirit
Result-oriented approach
Outstanding communication and negotiation skills
Adherence to higher working ethical standards (honesty, dedication, responsibility), innovative thinking, confidentiality and objectiveness
Հավելյալ նշումներ
Monday-Friday 09:00-18:00
How to apply?
Log in or send your resume