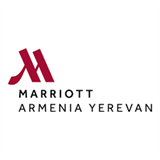 Industry:
Customer Support, Client Care, Tourism, Hospitality
Employment type:
Full time
Job posting has expired
Description
Armenia Marriott Hotel Yerevan is looking for an experienced and highly motivated Front Desk Specialist.
Responsibilities
Process all guest check-ins by confirming reservations, assigning room, and issuing and activating room key.
Process all payment types such as room charges, cash, checks, debit, or credit.
Process all check-outs including resolving any late and disputed charges.
Answer, record, and process all guest calls, messages, requests, questions, or concerns.
Coordinate with Housekeeping to track readiness of rooms for check-in.
Communicate parking procedures to guests/visitors and dispatch bell staff or valet staff as needed.
Supply guests with directions and information regarding property and local areas of interest.
Run daily reports (number of arrivals, departures), identify any special requests, and check reports for accuracy.
Complete designated cashier and closing reports in the computer system.
Cash guests' personal checks and traveler's checks.
Count bank at the beginning and end of shift.
Balance and drop receipts according to Accounting specifications.
Requirements
Education
Work Experience
No related work experience is required
Knowledge of Languages
Excellent knowledge of Armenian, Russian and English languages
Additional Notes
All interested candidates who meet the requirements are welcome to send their CVs indicating the position title "Front Desk Expert" in the subject line of the email..
Tel։ 010 59 90 56
Address: 1 Amiryan