You have successfully subscribed ․ You'll receive messages when company publishes new jobs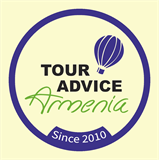 Address:
18 Sayat - Nova Str., 0001 Yerevan
Number of employees:
1-15
About Us
Tour Advice LLC is a travel agency established in February, 2010. The agency is located in the heart of the capital city Yerevan, on Sayat–Nova Street. It's a friendly team of young multilingual professionals with deep knowledge in different areas of travel and tourism, culture, economy and linguistics. Our staff took part in various workshops, seminars and Fam Trips and enhanced professional capacities in Japan, Greece, Egypt, Hungary and elsewhere. Our team is specialized in both inbound and outbound tourism offering a whole range of services. Whatever the interests, we do our best to please our customers and assist them to enjoy all the magic that a holy land, proudly called Armenia, can offer. As hospitable Armenian people, we take care of all our guests from start to end, no matter the time and location, seven days a week, twenty four hours a day. We prioritize the safety of our clients and the calmness of their nerves, be it at the airport, at the hotel, on the roads, or even at leisure. We are led with the principle that every visitor is VIP. We treat them with a special and unique approach. We consider every simple detail to help our visitors have a complete relaxation and a wonderful pastime, as only an entirely relaxed person can fully grasp all the magic and philosophy of this Biblical land. We are eager to show all the richness of historical Armenia and its natural and handmade treasures. With Travel Advice be sure to keep your impressions of Armenia for the rest of your life as we can give you Intelligent Travel Advice for Memorable Experience.
Benefits
Annual salary review
Corporate events
Free tea, coffee and refreshments
Reward system
Business trips
Trainings
Jobs at Tour Advice
The company currently has no vacancies
Look for jobs
in similar companies or
subscribe
to Tour Advice page to receive notifications about vacancies posted by the company