You have successfully subscribed ․ You'll receive messages when company publishes new jobs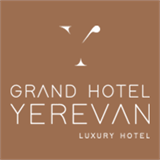 Address:
14 Abovyan Street 0001 Yerevan
About Us
The Grand Hotel Yerevan is the oldest working hotel in the Armenian capital and the first hotel in the city which always has something different from all those who came after. Located in the heart of the Armenian capital, the hotel offers 104 rooms, completely renovated in 2015 in classic and refined style. The Restaurant "Nairi", the first and only culinary project ever where you can taste the real Armenian recipes of the past, modernized and enhanced by Italian ingredients specially chosen by an Italian chef with two Michelin stars (working hours: 8 am-23 pm). The Lobby Bar is located inside our most evocative and famous for its uniqueness place: in the Winter Garden. The hotel has 4 conference rooms, a beautiful SPA of 1000 square meters located on the - 1 floor including a fitness center and a rooftop swimming pool with a seasonal opening where you can regenerate in the summer months enjoying Yerevan from above. The staff of the first Hotel in Yerevan while carrying out their daily work has the duty to make two principles: to guarantee a comfortable stay through the respect of international standards, and to allow the customer to live an Experience through the main of the services that a good hotel must be able to transmit: the Spirit of the Place.
Jobs at Grand Hotel Yerevan
The company currently has no vacancies
Look for jobs
in similar companies or
subscribe
to Grand Hotel Yerevan page to receive notifications about vacancies posted by the company